1/22/2016

| Cancer Research Collaboration |

0 Comments

|

Category: Donations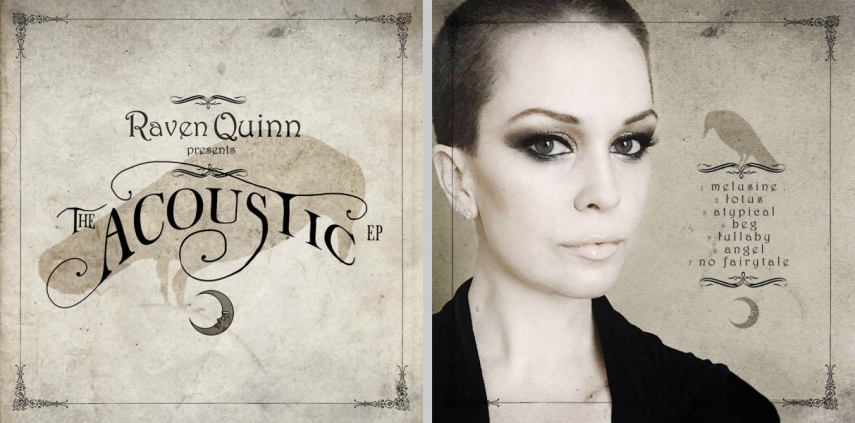 While news about an album release may seem surprising on a cancer research blog, the third album from Los Angeles-based singer-songwriter Raven Quinn is a little different. The Acoustic EP is the first album released by Raven Quinn since she was diagnosed with breast cancer in June 2015. Additionally, Raven will donate one-half of all proceeds from album sales to the Cancer Research Collaboration.
You can purchase The Acoustic EP on iTunes and Amazon.com. Digital and physical copies, including personalized and signed copies, can be purchased www.ravenquinn.com. CDs will also be available for sale at the Pink Ribbons & Blessings shop at Breastlink Orange.
Confronting a Breast Cancer Diagnosis
Raven released her debut album in 2010 and her fan base quickly grew. Within 12 hours of its release, the album reached top 20 positions in Amazon's rock and pop charts, including the number one spot on its "Movers and Shakers" list. Raven's success continued with the release of her second album, Not in Vain, in 2014. The following year, in June 2015, she was diagnosed with breast cancer at the age of 31.
Raven didn't think much of it when she accidentally discovered a lump in her chest. She was young and there was no history of breast cancer in her family, but she went to see a doctor. After multiple mammograms, an ultrasound and a biopsy, Raven was diagnosed with HER2- and ER/PR-positive breast cancer.
Lumpectomy was performed shortly after her diagnosis to remove cancerous tissue in her breast. Raven is currently undergoing chemotherapy and radiation therapy will follow. A breast cancer diagnosis can be devastating, but Raven maintained a positive attitude while she continued recording music. "I've been really cognizant of keeping a positive attitude," she said to The Spectrum reporter Brian Passey. "It's kind of a rebellious thing. I don't want to give this cancer any more happiness than it's already taken from me."
For The Acoustic EP, Raven recorded acoustic versions of her earlier work. She released the album less than three months after beginning chemotherapy. She made the decision to donate proceeds from the album to Cancer Research Collaboration because of her doctors at Breastlink Medical Group, where she received treatment. Dr. Wade Smith and Dr. Nimmi Kapoor are investigators for many Breast Cancer Clinical trials run by the CRC.
"I plan to donate 50 percent of all sales of The Acoustic EP to breast cancer research,"Raven writes on her website. "Breastlink is the incredible medical facility I go to for my cancer treatment. They have taken such amazing care of me and countless other patients, and they donate all sorts of services free of charge to the breast cancer community, so this is my way of giving back."
Raven, like so many other patients, is an inspiration and her donation will go a long way to help researchers in their search for innovative therapies, treatments and interventions that advance care for breast cancer patients. We sincerely appreciate Raven's generosity and encourage all of you to listen to her music.
If you would like to learn more about Raven, visit her website at www.ravenquinn.com or her Facebook profile at www.facebook.com/officialravenquinn.